SEMI cable protection metal hoses,
perfect all-round protection for cables and lines.


Flexible conduit,liquidtight conduit,flexible braided metal conduit,flexible steel conduit,high performance hose,racing hose,liquidtight connector,fittings


Electical flexible conduits,fittings,connectors,wiring accessories
Flexible metallic conduits and fittings for wiring harness
SEMI Electric Flexible Conduit,gray electric flexible liquidtight steel conduits,fittings
SEMI flexible conduits & fittings ---
Your Professional Electrical Wiring Protection Solutions.

SEMI, a leading Chinese manufacturer and exporter for electrical flexible conduits, fittings, high performance braided race car hose, and flexible ducting for various applications, our business philosophy has always been based on quality products, innovative solutions, and service beyond our customers expectations. We highly appreciate your business and hope that you find a flexible solution for your projects from our informative and efficient website .

We manufacture and export an extensive range of metallic and non-metallic electrical flexible conduits and fittings for a variety of installations requiring motion, vibration and bending. They offer good mechanical and moisture protection to enclosed conductors.

Products & Services:
*Metal Wire over-braided Flexible Conduit
(EMI shielding. EXplosion proof! Suitable for use in industrial Location)
*Liquid-tight Flexible Conduit and Fittings
*Flexible Metallic Conduit (FMC) (Square-locked, interlocked)
*Flexible Non-metallic Conduit
*Flexible Conduit Connectors & Fittings
*PTFE (PTFE) Flexible Hose, With Metal Wire Over-braiding
*Corrugated Stainless Steel Hose
*EMT Conduit Fittings
*OEM, Manufacturing as per customers samples & specifications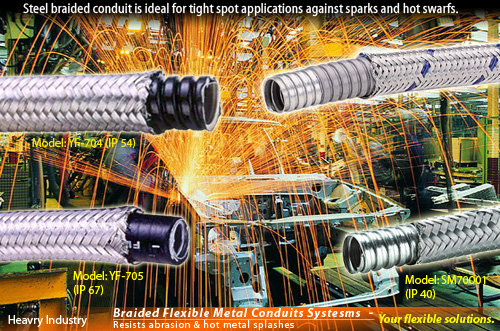 Applications: - For electrical wiring protections & managements where flexibility is necessary for installation, maintenance or where vibration and movement must be absorbed. Our electrical products are used in construction, industrial facilities, wire harnesses, machine tools, instrumentation and telecom equipments.

Flexible Hose For Automobiles (AN hose, hose end, engine hose, fuel rubber hose), OEM Products, Flexible hose, tubing, ducting and fittings for exhaust, fluid & gas handling and other applications are also available. Please write to us for more details.)

Main Customers:
OEMs, electrical contractors, machineries manufacturers, ships & trains builders, automobiles manufacturers, electrical wholesale distributors, and importers. We also sell our products to manufacturers of wire harnesses, wire assemblies, and producer of electrical appliances.

OEM Service:
Manufacturing as per customers samples & specifications. Send us your requirements and we will come up with a solution for you.